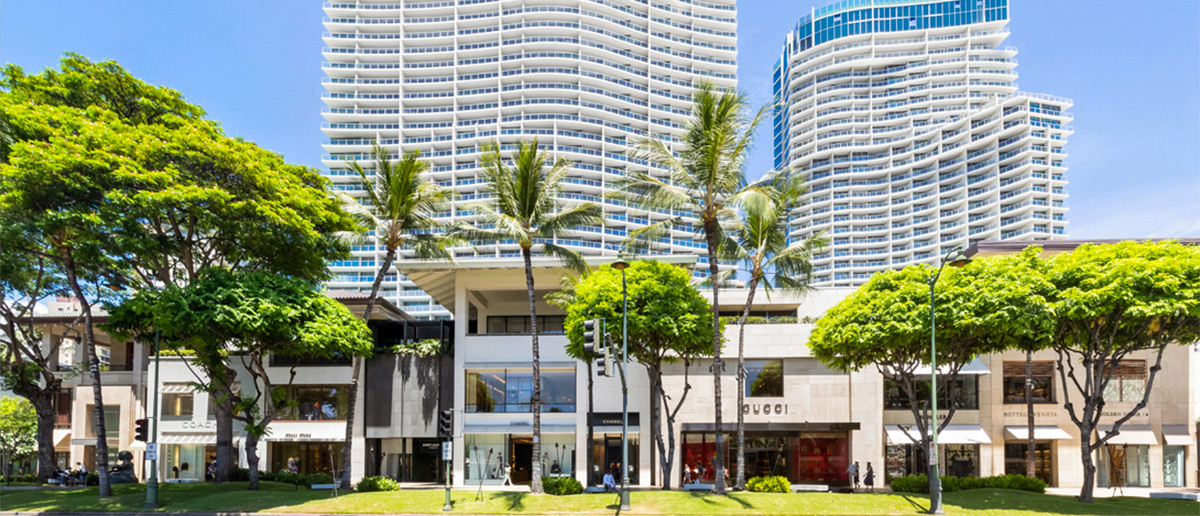 Luxury Row is 'Where Fashion Meets Art" and the experience of shopping is as exquisite as the products sold by Luxury Row's tenants, which include: Chanel, Gucci, Saint Laurent, Moncler, Miu Miu, Bottega Veneta, and Golden Goose.
Luxury Row is located in the heart of Honolulu's Waikiki Beach resort district at 2100 Kalakaua Avenue, the "Fifth Avenue" of Hawaii and also houses the beautiful sales office for the Ritz-Carlton's Diamond Head Club and the soon to open Mandarin Oriental Hotel and Condominiums.
 
Visit: http://www.luxuryrow.com
Chanel one of the world's preeminent French fashion houses, Chanel hosts a flagship store at 2100 Kalakaua Avenue in Waikiki. 12,000 square-foot three level boutique offers an assortment of ready-to-wear, accessories, shoes, fine jewelry, watches, fragrances and cosmetics. Under the current guidance of designer Karl Lagerfeld, Chanel remains dedicated to luxury, fashion, quality and image.
Gucci is hailed as the leading contemporary luxury goods retailer. Offering a full range of women's and men's ready-to-wear, accessories, shoes, jewelry and other items for home and personal use. Known for the quality of its products, distinct and creative design, and modern store environment.
Bottega Veneta's 4,800 square-foot boutique carries a full line of men's, women's and home collections, including ready-to-wear, handbags, jewelry, shoes, leather goods and tabletop. Led and inspired by the creative talent of Tomas Maier, Bottega Veneta today is synonymous with discreet elegance and unsurpassed quality.
Moncler outerwear collections marry the extreme demands of nature with those of city life. The brand was founded at Monestier-de-Clermont, Grenoble, France, in 1952 and is currently headquartered in Italy. Bottega Veneta was founded in 1966 near Venice Italy and is now world famous among Luxury Goods brands.
Saint Laurent Founded in 1961, Yves Saint Laurent was the first couture house to introduce, in 1966, the concept of luxury prêt-à-porter with a collection called "Saint Laurent Rive Gauche", synonymous with youth and freedom. This shift represented a first critical step in the modernization of fashion and revolutionized the socio-cultural landscape. Throughout the years, the House's groundbreaking styles have become iconic cultural and artistic references, and its founder, the couturier Yves Saint Laurent, secured a reputation as one of the twentieth century's foremost designers. Part of the Kering Group, the House kept true to its identity of absolute modernity and fashion authority. Under the creative direction of Anthony Vaccarello, appointed in April 2016, the House offers today a broad range of women's and men's ready-to-wear products, leather goods, shoes, jewellery and eyewear, under the "Saint Laurent" logo.
Miu Miu opened in 1993 and is headed by Miuccia Prada. Saint Laurent Rive Gauche is a fashion powerhouse known for its pioneering spirit, innovation and originality. YSL is internationally synonymous with French fashion, continually earning praise for its unrelenting ingenuity, creating fashion landmarks and capturing the opulent essence of haute couture.
Golden Goose, set up at the turn of the century and relying solely on Italian craftsmanship and artisanal production, became one of the most successful independent Italian brands, characterized by its garments that are lived-in, distressed and touched with life. Every single Golden Goose product is entirely handmade by Italian artisans. We believe in innovation and in timelessness, this is why we keep reworking the classics, creating new classics. The materials used are selected among the best qualities of leathers. Thanks to the painstaking attention to details, each pair of sneakers is unique. Our sneakers are treated and distressed by hand through special brushes, treatments, and craftsmanship: shaping every product into something unique, different from others, following the client's preferences.